Products:
Experiencing Worship Study
A study of biblical worship by Stephen M. Newman. A five week study on the topic of worship for your worship teams, choir, congregation, small groups and leadership. Covering a wide spectrum of worship, your people will come away with a new understanding of worship and what it means in their lives. People all over the world have purchased this study and it has been proven to be an excellent tool in teaching worship to worship leaders and worshipers. The study is accompanied by 24 days of devotionals that enhance the worship study.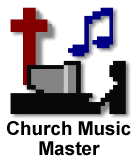 Church Music Master
Church Music Master is the complete worship planning and music ministry software for windows. Track every aspect of your music program including music, personnel, equipment, publishers and much more! Join music ministers and school teachers all over the country in managing your music library the easy way.